Origianally found at:
http://www.disboards.com/showpost.php?p=23433064&postcount=681
There's a really easy way to make pants with or without a side seam, as long as it's for a kid, or pajama pants.
To make pants with a side seam:Cut 4 rectangles of fabric.
The measurements are:
Width: 1/4 the hip measurement (Or waist measurement, whichever's bigger) of the person the pants are for plus 2.5" (3.5" for an adult)
Length: Outseam measurement (waist to ankle) plus 2.5"
Put two rectangles right sides together and cut a "J" out of one top-side of both rectangles.
The J should be about 9-10" high and 2" deep. Similar to the cut out of a peasant top arm-hole. (does this make sense??)

sew the "j"'s together.
Do the same thing on the other 2 rectangles
.Open up both sets, and line up the pants with the J's in the center, and sew up one leg and down the other.
Then sew together the ouside seams.
I then serge all of the raw edges....you could turn them over once or zig zag if you don't have a serger.
Turn under .5" at the top ans sew down, then turn under 1" and sew that down leaving room for elastic (or a waistband). use 3/4" elastic or a drawstring fo the waistband.
I Did take a pic of my FAVORITE tool for feeding drawstrings and/or elastic: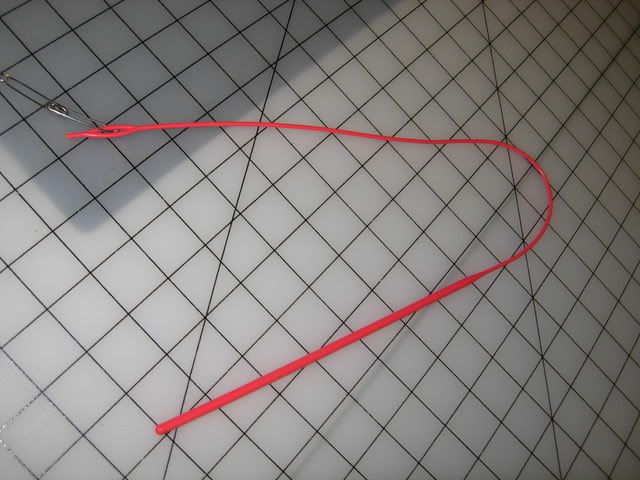 Hem legs.
The safety pins are to attach the tool tot he elastic, since it doesn't feed through the "eye".I hope these pics help!! I have to get back to my sewing!!ETA: Oh!! the way I remember that the curvy part is the crotch, is the CURVE has to go over a tushie (which is curvy). That way I sew the correct parts together.
For Side seam free pants
:Make TWO rectangles, the same length as above and twice the width as above.
Put the two rectangles right sides together and cut the "j"'s on BOTH top corners of the rectangles.
Sew both sets of J's together.
open up the pants with the J's lined up in the middle, and sew up the inside seams.
Do the waistband the same, and hem.
Clear as mud?
The pants are pretty unconstructed, and on adults can be prettty wide-legged.
I do this for all of my kids pants and shorts.
I hope this wasn't too confusing.
The "j" is harder to explain than it is to do.